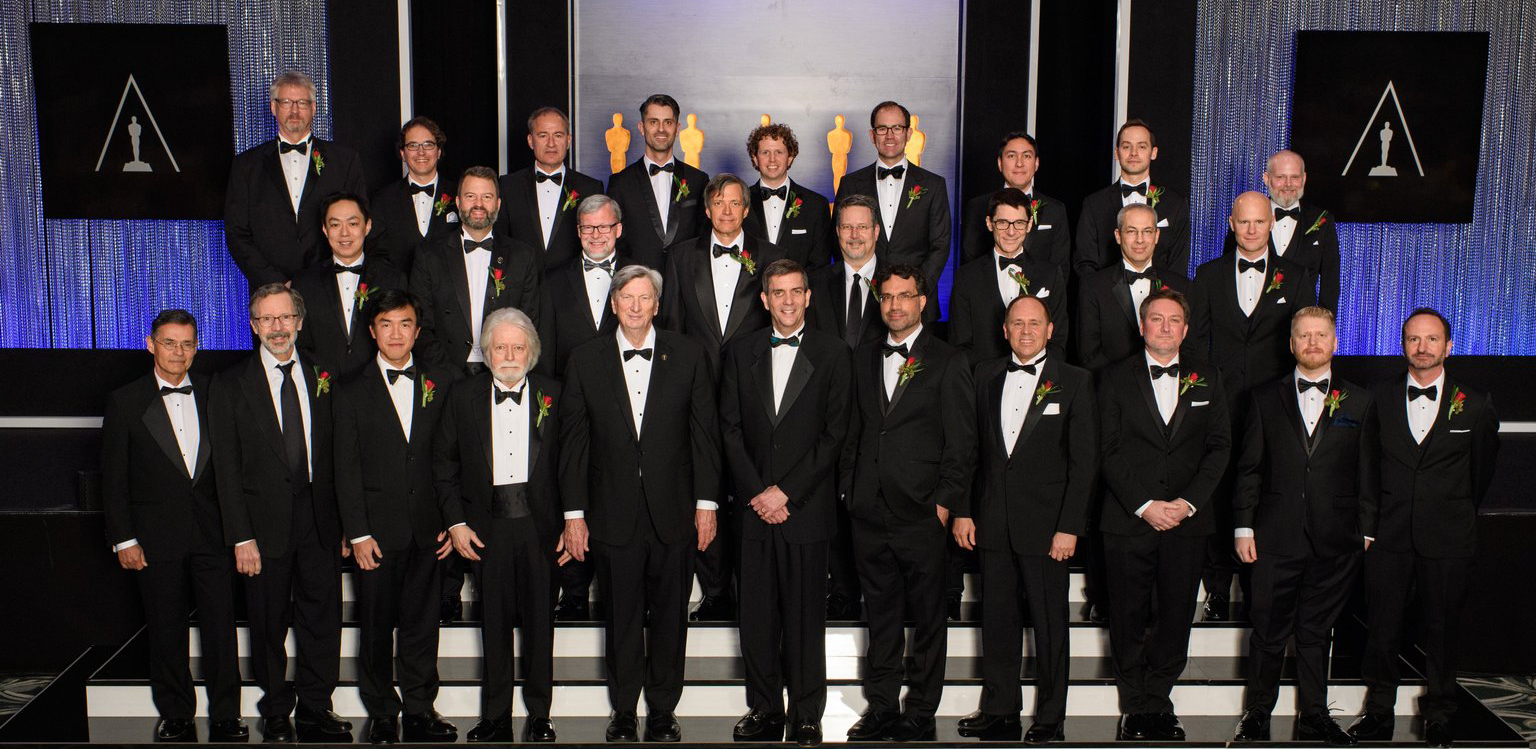 The assembled 2019 Sci-Tech Awards honorees. (Photo by Todd Wawrychuk, courtesy of AMPAS)
Evening of Excellence: 2019 Scientific and Technical Achievement Awards
Honoring an array of innovators and expertise, with the night's top award presented to the Society's resident technology authority, Curtis Clark, ASC.
Jay Holben
All photos courtesy of AMPAS
On the night of February 9, the Academy of Motion Picture Arts & Sciences (AMPAS) held their annual Scientific and Technical Achievement Awards ceremony at the historic Beverly Wilshire Hotel. This year, six Technical Achievement Academy Certificates and three Scientific and Engineering Academy Plaques were presented to 27 individuals. The highlight of the evening was the presentation of the coveted and highly prestigious John A. Bonner Award Medallion, which was awarded to Curtis Clark, ASC, chair of the ASC Motion Imaging Technology Council (MITC).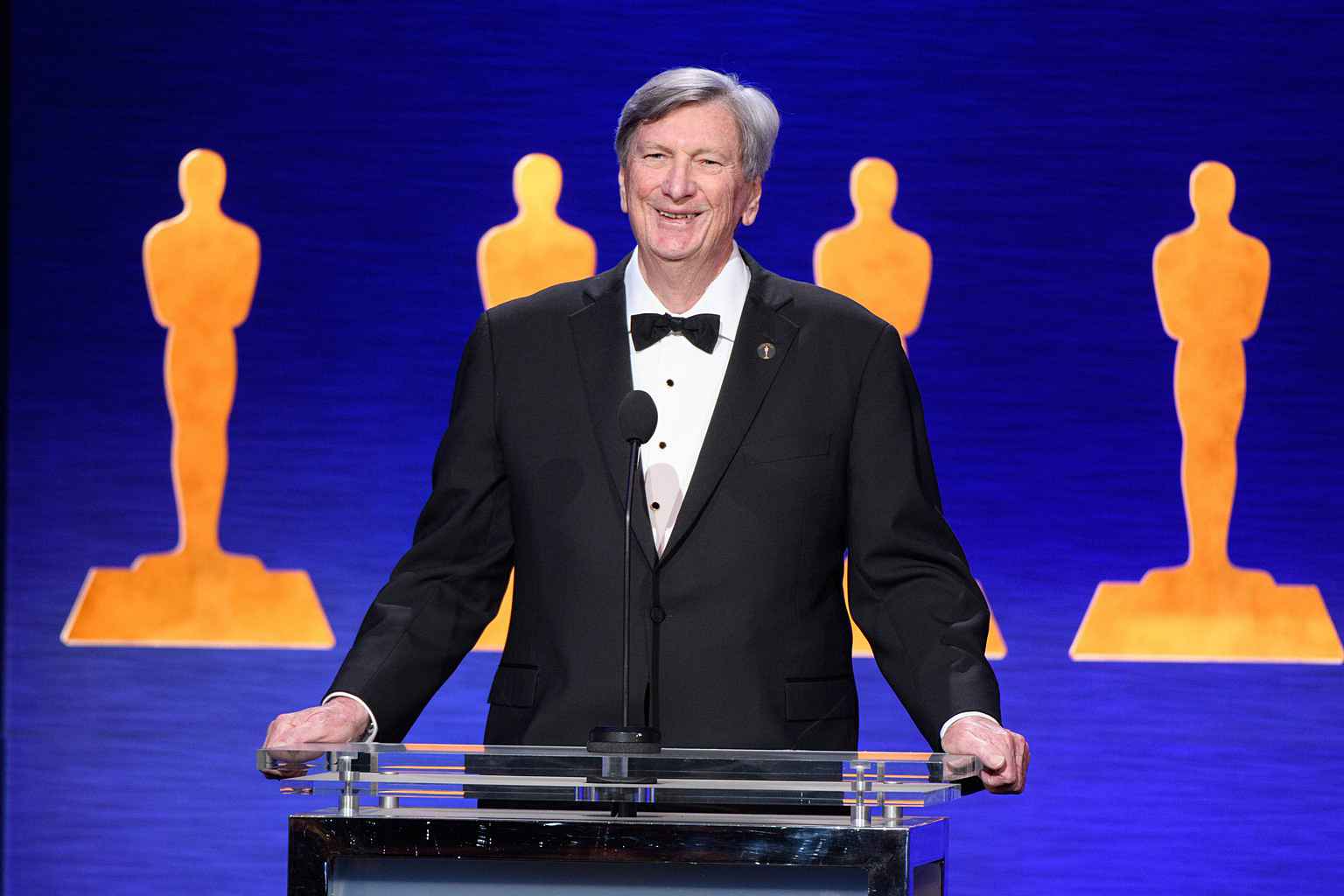 The 2019 celebration was hosted by two-time Golden Globe nominee David Oyelowo (Selma, Nightingale), who opened the ceremony by announcing that he was honored to stand among his peers. "Not my technical peers — because I wouldn't know a B-spline from a specular map — but I mean my mispronounced name peers!" he joked.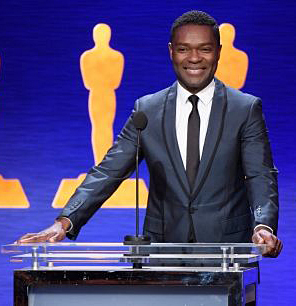 Oyelowo continued, "We've got some great awards tonight. Photoshop is here! ...Receiving an award this evening they are. They weren't originally one of tonight's honorees, but a very few quick brush strokes and, what do you know? They Photoshoppedthemselves into the program.

"I do want to say how honored I am to be here celebrating with you all," the host continued in a more serious tone. "Beyond the glam of the red carpet and the parade of limousines, the reason we celebrate is because someone had a story to tell — that is the art. And telling that story requires tools — that is the science. It's easy to get wrapped up in the awards season fever, but we shouldn't forget that making a great film requires greater talent from start to finish. The work that you've done to advance the art and science of motion pictures is invaluable and often times unrecognized, but not tonight."

One of the first presentations was an Academy Technical Achievement Award to Eric Dachs, Erik Bielefeldt, Craig Wood and Paul McReynolds for the design and development of the PIX System's novel security mechanism for distributing media.

For more than 15 years, PIX has been an unsung hero of Hollywood. The dailies delivery system has been used on nearly 5,000 movies and television productions, and the equivalent of over 3.6 billionfeet of film has been passed through the system. PIX was introduced to the market in 2003, quickly becoming the industry's most trusted and widely used secure communication and content management solution provider.

"Since its inception, PIX has obsessed over the need to improve communication, resource sharing and information security over the life of film projects," explains Eric Dachs, founder and CEO. "For 16 years we have been working towards this goal and are honored and humbled beyond words to be recognized by AMPAS for this technical achievement. We are privileged to serve an industry we love, and this recognition means a tremendous amount to the entire PIX team."

PIX has enabled a faster, secure and broader pipeline for the movie industry to be more collaborative – changing the digital landscape of movie making. PIX System's robust approach to secure media access has enabled wide adoption of their remotely collaborative dailies-review system by the motion picture industry.

An Academy Certificate was then awarded to Per-Anders Arvid Edwards for the initial design and development of the Maxon MoGraph toolset in Cinema 4D for motion graphics. The roots of motion graphics as an artform can be traced back almost a century to the work of Walter Ruttmann on Lichtspiel: Opus 1 (1921). Four decades later, the technique was advanced to mechanical/analog computer graphics for commercials and television productions by pioneer John Whitney. In 1958, Whitney collaborated with graphic designer Saul Bass on the title sequence for Alfred Hitchcock's Vertigo. Bass, who began utilizing groundbreaking motion graphics on Otto Preminger's The Man with the Golden Arm, would go on to incorporate these techniques on dozens of other films, including North by Northwest and Psycho.

MoGraph is an addition to the Cinema 4D application for modern motion graphics. It provides a fast, non-destructive and intuitive workflow for motion designers to create animated 3D graphics, as used for title design and fictional user interfaces in motion pictures.

"Wow, what an amazing gift," expressed Edwards as he accepted the award. "It's a huge privilege. I've gotten to see how what I make, MoGraph, has impacted and changed the industry and people's lives. How brilliant artists have taken it to places I never even conceived. They've conveyed messages that have changed the world and shaped new ones. That's a huge privilege."

Using a film clip to illustrate, Oyelowo then explained: "The technology of rotoscoping was invented 100 years ago by pioneer animator Max Fleischer. In this early example, filmed footage of Cab Calloway was used to recreate the animated dance moves of Minni the Moocher. Since then, the term has broadened beyond hand drawn animation to digital visual effects, but at its heart, the principle is the same to trace and cut out objects or characters for isolating and compositing."

For the efficient, artist-friendly workflow design of the Silhouette FX rotoscope and paint system, the Academy presented a Technical Achievement Certificate to Paul Thomas Miller — for the software design, principal engineering and continued innovation — and Marco Paolini — for the efficient, artist-friendly workflow design.

Silhouette provides a comprehensive solution for painting, rotoscoping and image manipulation of high-resolution image sequences. Its fast, scalable and extensible architecture has resulted in wide adoption in motion-picture postproduction.

A Technical Achievement Certificate was then presented to Paul Debevec, Timothy Hawkins and Wan-Chun Ma for the invention of the Polarized Spherical Gradient Illumination facial appearance capture method and Xueming Yu for the design and engineering of the Light Stage X capture system. "Digital capture of the human face from live action began almost two decades ago," offered Oyelowo. "It is one of the biggest challenges in VFX, but its continued development brings us closer to representing accurate and natural human expressions in completely digital characters. While to some that's just one step closer to Skynet's ultimate dominance over human kind, to others it's unending possibility."

Polarized Spherical Gradient Illumination was a breakthrough in facial-capture technology, allowing shape and reflectance capture of an actor's face with sub-millimeter detail and enabling the faithful recreation of hero character faces. The Light Stage X structure was the foundation for all subsequent innovation and has been the keystone of the method's evolution into a production system.

Next, a Certificate was presented to Thabo Beeler, Derek Bradley, Bernd Bickel and Markus Gross for the conception, design and engineering of the Medusa Performance Capture System.

Medusa captures exceptionally dense animated meshes without markers or makeup, pushing the boundaries of visual fidelity and productivity for character facial performances in motion pictures.

"In 2005, the Academy awarded a Technical Achievement Award to Edwin Catmull, Tony DeRose, and Jos Stam for the research and implementation of subdivision surfaces — a modeling technique used in motion picture, computer graphics," said Oleyowo. "It's the foundation for almost all of the visual effects and animation you see in movies today. And thank goodness, because, without it, my daughter wouldn't be able to watch Frozen 300 times a week. Thanks guys!" he quipped. "Since then, the widespread impact of this geometric construct is being heralded again by the Academy with an upgraded Award as well as recognizing a new recipient to receive honors for his additional research on subdivision surfaces."

The next award was presented to Charles Teorell Loop for his influential research on the fundamental scientific properties of subdivision surfaces as 3D geometric modeling primitives.

Loop's 1987 master's thesis, "Smooth Subdivision Surfaces Based on Triangles," together with his subsequent research and publications extended the theory of subdivision surfaces and inspired further development of methods that transformed the way digital artists represent 3D geometry throughout the motion-picture industry.

Following Loop's award, Catmull, DeRose and Stam received their upgraded Academy Plaque — Catmull for the original concept and DeRose and Stam for their pioneering advancement of the underlying science of subdivision surfaces as 3D geometric modeling primitives. Their creation of essential geometric operations and sustained research on the fundamental mathematics of subdivision surfaces helped transform the way digital artists represent 3D geometry throughout the motion picture industry.

"Thank you, all," professed Catmull in his acceptance. "My first class in graduate school was in computer graphics, and it completely changed my life. My project was to make a film of my left hand being animated. I then went on to do my Ph.D. work in rendering curved surfaces, but I knew at the time that the techniques for representing organic shapes really sucked. So, I was trying to come up with a different way, and, as a side project and maybe two years later in 1973, I finally had an idea that I thought would work. I wrote it up on 18 pages of engineering-green note paper with the proof and gave it to one of my professors who... looked at it briefly and tossed it back to me. He said, 'Ed, what is this shit?' So, I put it to the side for awhile. The reality is, as we developed representing organic surfaces, it still sucked! A lot of people were starting to look at it. Tony was leading his group, and Charles came out of that group, and there was a lot of excitement. And then Jos came along and was able to prove something and give representations which mathematically could connect it with the other tools that we had. Tony joined us at Pixar, and his first project was to put it into our filmmaking process for Geri's Game, which was just meant to be a test of new technology, but it was so successful that before the short was over, the people making A Bug's Life grabbed it and used it for all the organic shapes... and then Renderman adopted it, and then it became open source. For me, this is an incredible journey, and I never could've predicted any of it. It started 46 years ago with an idea, and sometimes it just takes a lot of really smart people working on it from different points of view and different places and a lot of patience. If you do that, you can end up with something that works."

Eight additional Scientific and Engineering Award Academy Plaques were presented to David Simons, Daniel Wilk, James Acquavella, Michael Natkin and David M. Cotter for the design and development of the Adobe After Effects software for motion graphics.

After Effects' pioneering use of consumer hardware to host an application that is extensible, efficient and artist-focused has made it the preeminent motion graphics tool in film production, allowing motion designers to create complex animated elements for title design, screen graphics and fictional user interfaces.

Thomas Knoll and John Knoll were then recognized for the original architecture, design and development, as was Mark Hamburg, for his continued development and engineering of Adobe Photoshop.

As Olyewow explained, "The history of Photoshop begins in 1987. 'Walk like an Egyptian' was at the top of the charts. As other college kids were doing keg stands, one Ph.D. student named Thomas Knoll began writing a program to display grayscale images on a monochrome screen. Meanwhile, his brother, John Knoll, was working at ILM. [John] realized that digital painting would be the future of visual effects, and he convinced Thomas to turn this idea into a fully-fledged image editing program."

Photoshop was born.

The program's efficient, extensible architecture, innovative virtual-memory design and powerful layering system introduced a new level of user interactivity, which led to its adoption as the preferred artistic tool for digital painting and image manipulation across the motion-picture industry.

The evening's top award — the John A. Bonner Award Medallion — is presented to an individual in recognition of extraordinary service to the motion-picture industry. This year, the recipient was the Society's own Curtis Clark, ASC.

"I'm used to doing things that bestow recognition on the colleagues that I work with, so to be the recipient of this is really quite remarkable."
— Curtis Clark, ASC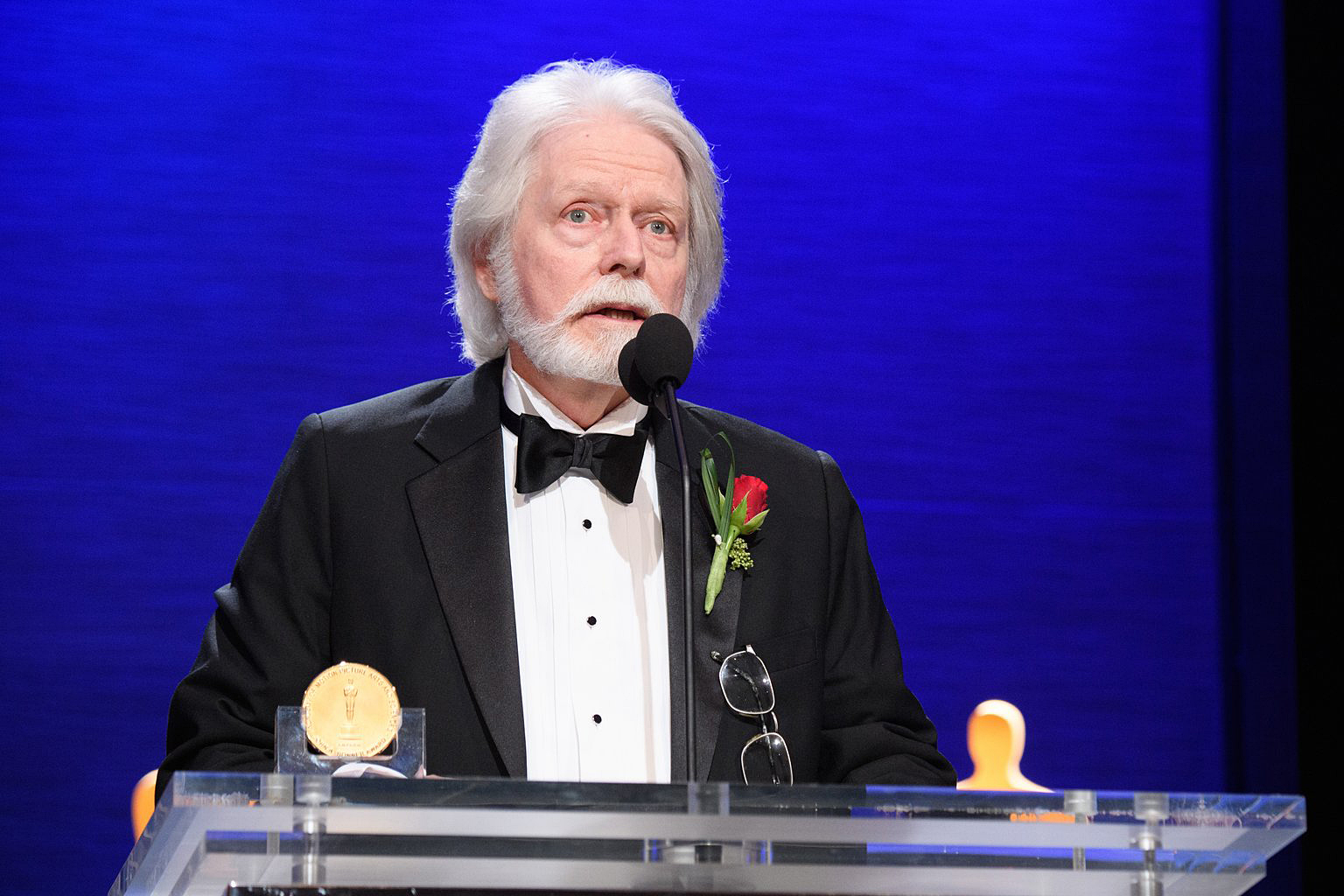 Bonner served as an Academy Governor representing the Sound Branch, and he was the chair of the Academy's Sci-Tech Council. His volunteer work and dedication to AMPAS spanned more than 30 years, and in 1994, he was awarded an Academy Medal of Commendation for his years of service and devotion. He was so impactful that, after his death, the very medal he won was renamed after him.

Olyewow offered: "Tonight, we hand the John A. Bonner Award to a man whose core beliefs are the very definition of this honor — the pursuit of upholding high standards in the science of motion pictures: Curtis A. Clark."

Clark accepted this prestigious honor with the same soft-spoken humility for which he is known: "I'm used to doing things that bestow recognition on the colleagues that I work with, so to be the recipient of this is really quite remarkable."

Clark got his first taste of the love of cinema very early in his life. As he noted in his acceptance speech, "I first experienced the seductive power of cinema as a young boy in a downtown Nacogdoches, Texas, theater, where my grandmother took me to an afternoon matinee of High Noon. I was so transfixed with a sense of wonder that I pleaded with my grandmother to let me see it again at the next showing, which she did. The film had effectively created a world where I became immersed in an emotionally charged atmosphere."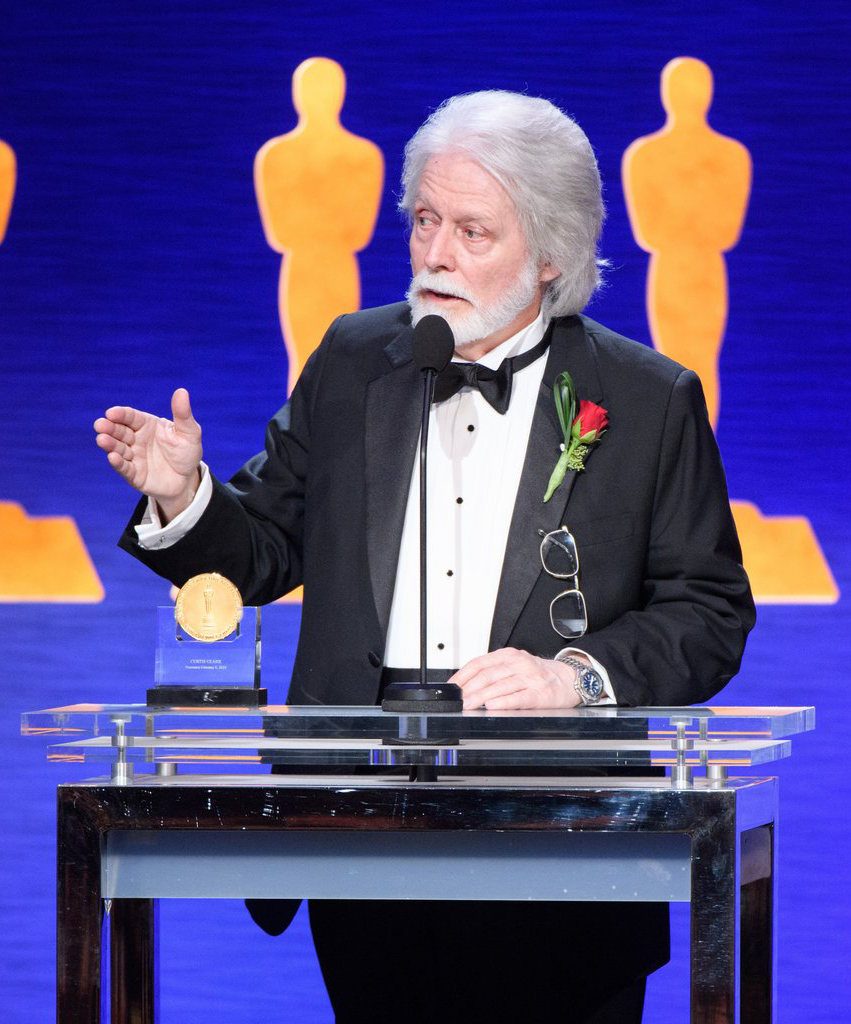 In high school, Clark became involved in film and theater and developed an aptitude and passion for directing. He went on to receive his bachelor of fine arts in theater directing, but soon realized that it was not the right career choice for him. He then went to the London Film School for a graduate degree in filmmaking and discovered a love for cinematography. His first feature film after graduation was the seminal The Draughtsman's Contract (1982), directed by renown stylist Peter Greenaway. It was Clark's pursuit of understanding the technical minutia of film that led him to the choice of shooting Draughtsman's in the nascent Super 16 format — at the time untested for 35mm blow-up for a theatrical release. Yet, through his own detailed investigation, the technical knowledge that he had gained informed his creative decisions, and the film was an extraordinary success. The fact that it had been originated on Super 16 remained secret for many years.

"I felt compelled to have a mastery understanding of the technological aspects of film," Clark attested. "By doing so, I was able to stretch the limits of what was possible. By understanding the grain structure and photochemical components, I could use that knowledge to inform the creative decisions we made."

Over the years, Clark has remained steadfast that a keen understanding of the technical is what informs the creative decisions of the filmmakers and helps to make sure their creative intent is fulfilled. His travels and technological interest landed him with an early entrepreneurial endeavor into geosynchronous satellite communications for the entertainment industry, affording filmmakers with the ability to real-time collaborate with dailies and visual effects from remote locations.

When Kodak unveiled the Cineon system in the early 1990s, Clark saw the immediate implications on the future of cinema. As the first non-video-based system of digitizing film, it opened the possibility not just for visual effects manipulation, but greater control over the color manipulation of the image that wasn't possible in photochemical color timing. His understanding of the technology allowed him to be at the forefront of this new movement.

In 2002, when then–Society president Steven Poster, ASC made the decision to form the ASC Technology Committee to take a stand in the new digital revolution, Clark was his singular choice to chair the new group. His leadership of the Committee over the last 17 years, which would become the Motion Imaging Technology Council, has resulted in a symbiotic partnership with the Digital Cinema Initiatives to form the standards for digital cinema. This includes the creation of the ASC CDL — a color correction metadata language that allows the cinematographer to establish looks on set that can be communicated to any post facility on any software — as well as many more innovations for which the ASC has been at the forefront under Clark's careful guidance. His impact on the world of cinematography, the ASC's position in the industry as a technical and creative authority and the modern world of digital filmmaking is unquestionable and the motivation behind the Academy's high honor.

"For me, the attraction of cinematography has always been the aesthetic role that it plays in sharing narrative storytelling through compelling images that instilled the viewer with a sense of wonder," Clark continued as he received the award. "It was many years later at the London Film School that I felt compelled to understand the technical foundation of the motion picture image to better explore the artistic possibilities. At that time, motion pictures were an exclusively film-based system. When digital cinema started to emerge as a reality, the American Society of Cinematographers asked me to form a technology committee, later renamed to the Motion Imaging Technology Council, to assess these new digital imaging technologies with a view to influence their development in ways that best serve the creative work of cinematography and the filmmaking process.

"January 2019 marked the hundredth anniversary of the ASC and the 16th anniversary of our Technology Council. During the past 16 years, we have achieved significant success and forged a formidable reputation as an important forum that focuses on the ways that digital imaging technologies impact our traditional cinematographic art form and how they can best serve filmmakers creative intent."

You can watch Clark's presentation here: